It's that time again!
Time to list the "T.I.G.'s" for the week!
For those of you who are new to this blog, T.I.G. means "This is Grenada." Grenada is the Caribbean island where I live now, and it has some interesting quirks. When something goes wrong here, it can usually be explained with a simple exasperated, "This is Grenada." But, I've altered it to mean something more positive. I want to look at the good too and forever remember how lucky I am to live in a beautiful place.
I thought about this concept for a while and realized that you can do the same! What has made you laugh, cry, roll your eyes, or throw your hands up where you live? Is it the traffic, the good people, or that free cup of coffee? Write a post and share it with us as part of the "This is Wherever Wednesday" party. Please link back to my blog in your post – It's only polite. 🙂


Here are mine for this week:
Hubs got his white coat! He is officially initiated into medical school and boy has he been busy. I've never seen someone study so much, and I couldn't be prouder! T.I.G.
Poor Julep broke out into hives four times in the course of three weeks. We think she might be allergic to something here in Grenada that she's not exposed to at home. Unfortunately, we don't know what. So far, she's gone a week without it, so keep your fingers crossed for our little fur-child.
The buses have been incredibly packed since it's the beginning of the school year, and everyone is actually going to class. It's getting to be a little crazy, since not everyone fits on the bus but everyone needs to get to school. T.I.G.
I got to see so many friends the past few weeks that I dearly missed over break! T.I.G.
Hubs really liked his "first day of med school breakfast" that I made him. 🙂 T.I.G.
My office building has a beautiful view of the water. I don't think I'll ever get tired of it. T.I.G.
We talked to a Grenadian cook who just lost his job. He was so nice, told us all the places that he sent his resume to, and then we suggested others. He even told us he had been to Louisiana and loved
crawfish
. I was impressed at how adamant he was in his job search and was feeling grateful that I found one myself after a long time looking. Later, we ran into him again, and he asked us for bus fare. All I had was $20.00 EC on me, so I gave that to him and he was just
so grateful
(bus fare is only $2.50 EC.) He thanked us and promised to bring some mangos from his house and leave them for us at a place near campus on Friday. I don't write this to pat myself on the back, because I say no to people every day that ask me for money. But, for some reason, today I felt compelled to, and I want to remember how good it felt to help someone who actually needed it. T.I.G.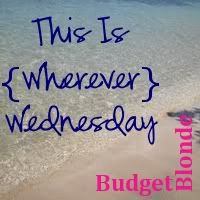 (Visited 239 times, 1 visits today)